Our breakthrough platform to improve antibody & protein production
Strategia Therapeutics has developed its own proprietary technology, TapBoost®, to control protein folding and the protein production process.
TapBoost improves yields for antibodies and proteins and maintains  stability, functionality, and ease of secretion
Over the past several years, Dr. Akinori Hishiya, Strategia's Director of Biology, has discovered several specific small amino acid chaperone motifs called "BSC sequences" that enhance protein production.  His new TapBoost® platform exploits BSC sequences that have been developed that are fused with binding partners to make "targeted protein production" only for the protein or antibody of interest. The most widely studied of these sequences is BSC1, which has provided a valuable tool for protein and antibody expression teams by:
Enhancing expression of existing biotherapeutics or target antibodies 3-10x
Enabling expression of Difficult-To-Express proteins or antibodies (more than 20x)
Highly correlative increases in yield levels versus function of target protein or antibody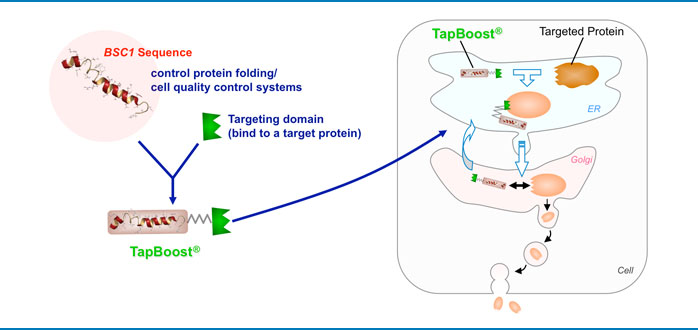 Technical Resources
TapBoost® increases protein production for many different applications.
1. Antibodies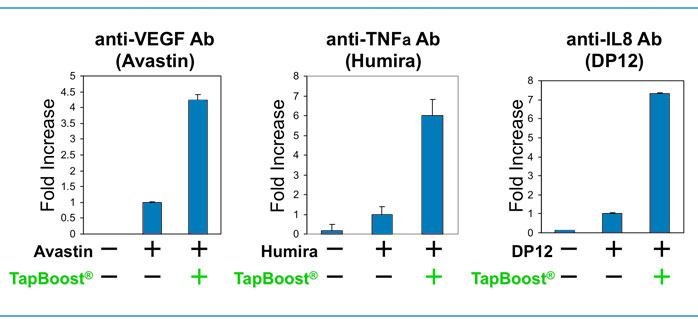 Antibody binding affinity for its corresponding epitope
Detection: ELISA using rVEGF, rTNFα, or rIL-8 for Avastin, Humira, or DP12, respectively
2. Difficult-To-Express Proteins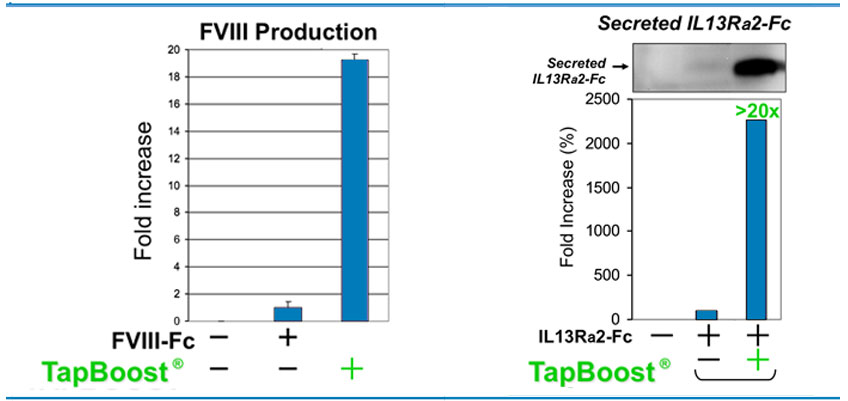 IL13r and FactorVIII data shown here is quantified Western Blot, ELISA, resp.
Not shown: expanded functional data (see Technical References) positively correlates with increases in yield.
3. Research tools and targets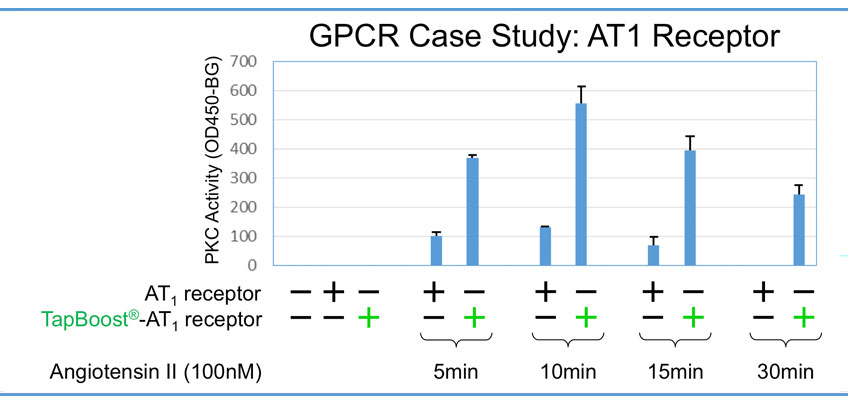 Functional activity shown here
Detection by Western not shown (see technical references)
Contact us to learn more about TapBoost®
Products & Services
A better way forward
Our mission is to develop alliances that help solve protein and antibody expression challenges, and to enable partners with exceptional service and a game-changing technology platform.
Access to TapBoost® technology
Strategia seeks partners who share our ideals and are focused on the advancement of great science. We are currently sharing our TapBoost® technology with several major biopharmaceutical companies, R&D institutes, and academic labs. Upon entering a partnership with Strategia, team members are invited to negotiate access to TapBoost® through standard, straightforward licensing arrangements.